Domestic alarms and commercial alarm systems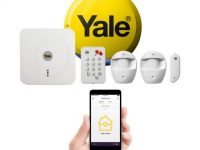 An alarm system is one of the best deterrents at your disposal. With intruders more likely to target business premises and homes with poor or less apparent security, simply having a visible intruder alarm can make a significant difference to your risk of burglary, theft, robbery or vandalism. Our master locksmiths are here to help with common sense, expert advice about the best home security and commercial security systems on the market. We'll recommend, fit and fix your new system in no time, every time, with a smile, at a very reasonable cost.
Home security alarm systems - From basic to sophisticated
There are various types of home alarm systems, each with its own level of security. We source and fit the lot, from burglar alarms, wireless alarms, basic bells-only alarms, through to 24/7 alarms with annual inspection and maintenance contracts included. You might choose a monitoring contract, where you or an appointed keyholder is contacted if it goes off. You might feel safest with a police response alarm, linked to your local police station. Or a speech dialler alarm with a single motion sensor, where the alarm automatically calls a pre-set number and leaves a recorded alert when it goes off. If you have no idea what you need, we can also advise you about the best choices for your particular situation.
Security alarm systems for business - The best in commercial security
A good business security alarm can reduce your commercial insurance costs as well as keep your premises and everything in it safe and secure. Our fully integrated approach to security products and services means the support we give our business customers is total, including both electronic and physical security solutions. And we are fully aware of the extra security measures required by government agencies, handling sensitive public sector security projects confidently. Whether you have a small premises or a huge area need of commercial security alarms, we will tailor the solution directly to your circumstances.
Contact us
Whether you have a question or want a free quote, we're here to help you with every aspect of security alarm systems. We have local locksmiths all across the UK ready to answer your questions. Just call or email us. We are up to date with the latest technology and share our expert knowledge regularly through our blog. Offering security and locksmith tips. Check out our 5 tips for better home security