Van Lock Upgrade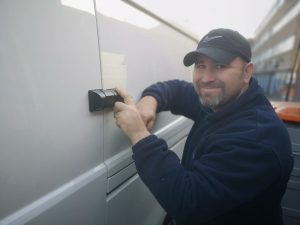 It is worth taking extra care with your van security because of the valuable tools and equipment that you store in it. A sensible precaution is to contact Keys4ulocksmith to discuss upgrading the protection on your van. Make sure you are not the victim of a theft which could have a significant impact on your business!
Van lock options
We can fit a variety of locks and devices including:
British Standard Deadlocks which conform to BS3621. These are a popular upgrade and can be fitted as additional security to your normal van lock. These locks are of particular use if your van has to be left unattended overnight or in an insecure area, and then your standard lock can be used during working hours. We can fit these locks to almost any make of van.
The LoomGuard which is particularly designed to protect the central locking wires of the Ford Transit and Ford Transit Connect. The locking wires on these vans are visible from the outside and can be easily cut. Ford corrected this, but thieves still try to cut the loom to unlock the doors. With a Keys4u installed LoomGuard your Ford van is no longer vulnerable to this type of attack.
The Armaplate which is a stainless steel plate that covers the area around the van's door lock and handles. This prevents thieves from punching a screwdriver through the bodywork of the van to get access to the lock. Armaplate can also be used as a permanent repair if the van has suffered a previous break-in. Other protection devices we install to prevent thieves from gaining access to your van locks include ProtektaPlate by ProtectAvan and ProPlate. In addition, the HandleGuard lock prevents thieves from getting access to the internal handle release of the side door handle of a van.
The Ultimate van lock which is a high-grade lock that covers both sides of the van door and needs a high-security dimple key to unlock it. It is very strong and resists attack by hammers, screwdrivers, jemmies and disc saws. These locks are available as slam locks or deadlocks. Slam locks are locks which engage when the van doors are closed.
Stainless steel SlamHandles can be installed to replace your original van handles. These are anti-drill and anti-pick and can be supplied as slam locks.
Qualified and professional locksmiths
All Keys4u locksmiths are qualified, highly professional, reliable and DBS-checked.
With no call out charges, Keys4u technicians are available 24-hours a day, 7-days a week, and promise to be with you within 30 minutes of your call.
Our six-month guarantee
For your peace of mind, all our products and services come with a six-month guarantee. We also provide free advice for all our products along with a free site security survey.
If you think you might need extra security for your van please contact Keys4u locksmith.
Tel: 033 330 52993
Email: [email protected]
For more information on van locks, see our helpful YouTube video: