30 Minutes Local Emergency Ilford Locksmiths
24 hour emergency Ilford locksmith. Only 30 minutes response time!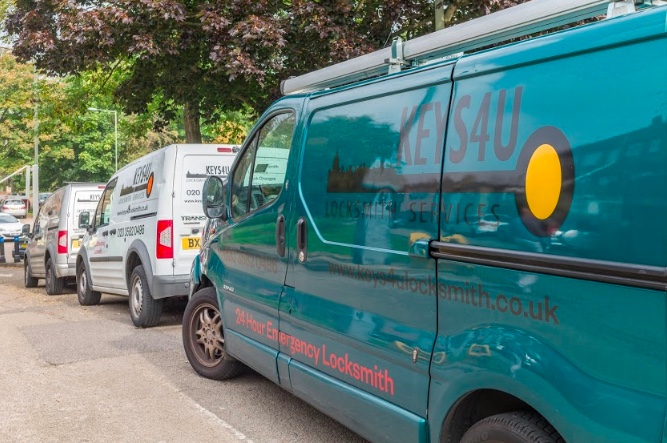 KEYS4U is home to a very dedicated team of locksmiths in Ilford, which offers a 24/7 locksmith emergency unlock doors and lock installation services. Values like fast response times, reliable craftsmanship and affordable prices are at the core of our business and have seen us servicing a wide range of satisfied customers over the years. Simply give us a call for free estimates and advice.


Fully qualified locksmiths in Ilford
Our fully qualified team of locksmith professionals are trained to respond in less than one hour and arrive at your Ilford based property. We are qualified to help with anything from door lock installation, lock repairs or fitting to any locksmith emergencies like being locked out. We supply a wide range of locks fitted to BS-3621 standards. Similarly, we are able to cut keys onsite with no hassle, saving your time and money.
We carry variety of locks for you to choose from in cases of fresh door lock installations. Depending on your budget and level of security, you can choose the best option for your premises. Our free advice is available on the phone and/or on site.


Guaranteed unlocking, lock repair and fitting
The Keys4U service primarily focuses on fast response times for all Ilford locksmith emergencies. Should you experience any difficulties with your locks, you can call now for a no obligation free quote or simply request a call back. Our locksmiths will contact you immediately and arrange a visit at your earliest convenience, during the day, evening, early morning or on weekends. Some of the most common cases see our satisfied customers have us fix jammed locks, create property or car key duplicates on the spot, repair locks or fit new locks altogether. It would be a pleasure to assist with locked vintage boxes, door lock replacement, or extensive lock care during property refurbishment sessions. Did you get locked out of your business premises or home? No to worry, our locksmiths will turn a potentially annoying situation into a great day thanks to a fast, reliable and discrete service. KEYS4U also performs custom tailored security system installs and replacement, including CCTV and alarm systems.


About locksmiths in Ilford
Ilford IG1 is a large cosmopolitan area in the London Borough of Redbridge, located 9 miles from the city centre in East London. Discover a significant commercial centre surrounded by extensive residential development, a very affordable place to live just outside the agitated and fast paced life of the capital. For all locksmith emergencies in IG1 Ilford just give KEYS4U a call and rest assured that we will always perform a fast, efficient and discrete service at good prices.
November 18, 2020 , 03:29:54
The best locksmith I met honestly life saver. Haim IG3 locksmith