Posted on May 25, 2022 10:27 by Tracy
Reasons to Hire a Professional Locksmith in London in the Event of a Lock-Out
Many people don't think about what they'd do if they were locked out of their homes until it actually happens. If you live in London and find you've lost your keys or had them stolen, don't try to gain access to your property yourself. Nor should you hire an inexperienced or amateur locksmith. What you need is a reliable, professional locksmith in Londonto open, repair or fit new locks to your property. Our locksmiths in London are skilled and insured, not to mention the fact that they come equipped with the right tools to do the job.
Here are more reasons why you should hire professional locksmiths in the UK if you ever find yourself locked out:
Fast Response Times
In the majority of cases, you only ever need a locksmith when you're least expecting it! Maybe your front door has slammed shut with you on the wrong side. Perhaps you've lost your keys or had them stolen while you've been on a night out. You could even have come home and found that you've been burgled. Whatever the circumstances, you need help fast to gain access to your property and secure your possessions. You might also want locks changed to prevent anyone but you and your family from entering your home in future.
Locksmiths who are fully trained and equipped with the latest tools can offer you fast solutions. They understand the urgency of the situation, and good locksmiths work 24/7, around the clock, so you can rest easy knowing they'll be there for you and you'll be able to enter your property as soon as possible. To get the quickest service, always look for a locksmith that's local to you, rather than ring a national company. That way, you can expect a fast response no matter what the circumstances are.
Offers Security
The last thing you want to do when you are locked out is to compromise the safety of your property or your family. However, this could be the case if you hire an amateur or a general handyman than professionals. The person you have asked for help might not have the right skills or equipment to pick your lock with care so it can continue to be used in future. They might not be able to fit new, stronger locks if you think someone else has got hold of your keys. That can make your house an easy target for burglars. Professional locksmiths will not only ensure you can get into your property again, but they'll also repair any damage, replace locks and give you advice on how you can make your home or office more secure.
The best locksmiths also carry insurance, meaning you, your property and they are all protected financially if there's any damage or accidents while they're carrying out the work. This gives you peace of mind, knowing you're covered if anything goes wrong.
Dependable Results
As opposed to amateurs or people who try DIY methods to access a locked property, professional locksmiths have a great deal of knowledge when it comes to security systems and technological advances in the security industry. This means they'll know the right strategy and have the right materials to get the job done right the first time. They offer fast and reliable results, no matter what type of locks you have.
They constantly keep abreast of developments in their industry and learn the latest techniques to ensure they're up to speed with almost any type of locking or security system, including smart locks.
As well as handling broken locks and opening locked properties, they can also give recommendations on better ways to keep your house safe. They can advise whether you need to update your security systems, window locks, or any other aspect that may compromise your safety. You'll know if you call in a professional that you'll get the best results.
Save Money
Whether it's for an office or your home, the process of repairing locks and replacing lost or stolen keys can be a hassle. If you don't have any expertise in this area, don't try to tackle it on your own. Instead of resolving the problem, you may well cause more damage to your property and have to pay out more money to make it secure again in the long run.
Hire locksmiths who can provide fast, professional solutions, and you will save money and time. Because they come equipped with the right tools, you won't need to purchase any of the materials yourself. And because reliable locksmiths' work comes backed by a warranty, you're covered if anything goes wrong with what they've fitted in the near future. Quality locksmiths charge reasonable rates as well and won't penalise you with expensive call-out charges and the like.
There's never a good time to find yourself locked out of your property. However, no matter how careful you are, it still happens from time to time. Luckily, professional locksmiths have you covered. They are certified to handle any aspect of security and offer fast results. Call your local locksmiths 24/7 if you have trouble with locks or keys. With all the benefits outlined above, there's no reason not to ask for their help.
If you're looking for dependable locksmiths to fix or upgrade your locks, Keys4U Locksmith is here.
We operate 24/7, so you can rely on us anytime, any day of the week. You can trust our experts to deliver the best services for your needs, whether that's for your workplace or your home. Call us on 02071839086 or email us at [email protected] for more information and with any enquiries.
FREQUENTLY ASKED QUESTIONS
How much does a locksmith call out cost?
The rate of a locksmith in London varies depending on the service you require and the materials used – for example, some types of locks are more expensive than others. But with our locksmiths, you have the reassurance of knowing we don't charge a call-out fee, and our prices are transparently displayed on our website.
What are the benefits of hiring a professional locksmith?
Whether you need emergency access to your property because you've been locked out or smart lock installation in London, a professional locksmith will offer high-quality services. They're au fait with the latest security measures; are skilled, capable and experienced; will be insured; and will provide fast solutions. They can also offer security advice to protect your property further.
What do you do if you get locked out of your house in the UK?
The safest, most reliable option when you're locked out is to contact a local locksmith and wait for them to solve the problem. An expert will be able to help you gain access while causing little to no damage to your locks or doors, even if you don't have the key.
How does an emergency locksmith work?
Locksmiths are professional experts who can help you keep your home, business, or vehicle secure and safe. They can gain you access to your property if you're locked out and can install, fix, and maintain most kinds of security measures, including alarms, window locks or door shutters, CCTV systems, and other access control systems.
What are the best tips for hiring a locksmith?
If you need 24/7 lock services in London, the best approach is to hire a reliable and reputable company you are familiar with. You can ask friends or family for recommendations or check independent reviews online for particular locksmiths to find out what past customers think of their services.
What happens when you call a locksmith?
Ring their number and explain your issue and your location. The company should outline the steps the locksmith will need to take and give you an idea of the cost. If you agree to proceed, they should give you an estimated time of arrival. You may need to show them your ID to prove you live on the property.
How do I find a good locksmith near me?
Search online for locksmiths in your area. Check independent reviews on the internet so you get a better idea of whether they provide a reliable service. Check their website to make sure they're insured and that they offer the service you need. Ask for an estimate for the job, and whether the work is covered by a warranty.
Qualities of a Good Locksmith
We all know it's important to safeguard our possessions and valuables in the home; and getting locked out of a house or workplace is something that most of us have experienced at some time in our life. It's well worth, then, making sure you know of a reliable locksmith in your area. But why look for 'locksmiths near me'? Simply because, if you need their help in an emergency situation, they'll be able to reach you quicker.
And why look for locksmiths at all if you don't have a lock-out emergency? Well, good locksmiths can help you protect your belongings from burglary and theft, as well as open locked doors. Professional locksmiths can recommend and install new locks that will make your property more secure (and may even help lower your insurance premiums!) and can also repair existing broken locks too. Here's a quick guide to finding the best locksmith for your needs
Know what you're looking for
Your search for a locksmith should, of course, be tailored to your requirements. There are many different types of locks, from traditional mechanical locks to highly sophisticated ones that open with the right fingerprint and other types of smart locks. Not every locksmith can handle every sort of lock, so check the services they advertise on their website.
When you contact the locksmith, give them as much information about the job as possible. This ensures they come fully equipped with everything they might need to complete the job, saving you time.
Look for an experienced locksmith
A locksmith with plenty of years in the business will be able to tackle and complete the job faster and will already have access to the appropriate tools. A professional locksmith will provide solutions that are tailored to your needs, will be able to give you their expert advice, and will deliver high-quality workmanship. A skilled locksmith will have plenty of positive testimonials from past clients and a good reputation online and in the local community.
Expect a good locksmith to ask you all the appropriate questions when you first contact them. They will bring the required materials and complete the job quickly. Furthermore, if you ask them while they're there, they'll assess your property's security and make suggestions on how to improve it if necessary.
Time is of the essence
In some situations, you need a speedy response – after a burglary, for instance, when you might want locks changed, or when you get home after dark and find yourself locked out because you've lost your keys. A competent locksmith understands they need to prioritise jobs like these and will get there as soon as possible. They should make their clients' property security a priority.
Looking for a professional locksmith or door unlock service in London, if that's where you're based, will usually ensure a faster response time than if you call a national firm.
Benefits of Using the Services of a Locksmith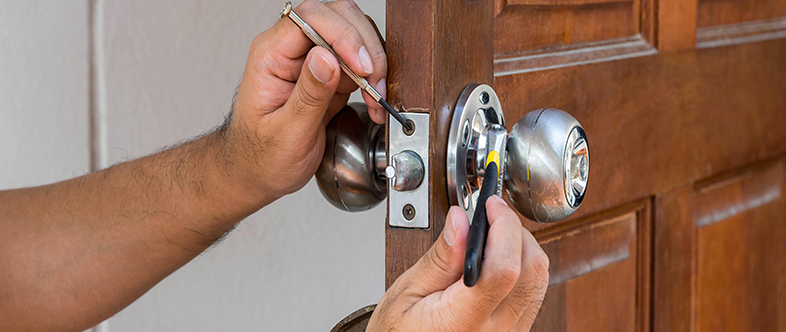 If you've lost the keys to your office or home, or your lock isn't working for some reason, you may be tempted to try and access your property yourself by means of a ladder or breaking a window. In truth, though, this might be putting your own safety in danger and could also leave your home vulnerable to others too. If you have a lock-related problem, it's always best to call the professionals. Here are some of the benefits:
They work round the clock
Events like being locked out of your own house can happen at any time, and it's almost never convenient. The good news is that a competent locksmith in your area will usually come within 30 minutes of your call and will have all the right equipment with them to help you enter your property. They'll also offer services round the clock, so no matter what time of day or night, you won't be left stranded for long.
They do the job with safety in mind
Because they have the right skills, they can gain access to your property without compromising anyone's safety. They have the latest tools to pick all types of locks and can usually do so without damaging either the lock or the door in the process. This will typically save you money in the long term as you won't have to replace or repair these elements.
They can help to upgrade your locks
If you've been the victim of a burglary, for instance, it can be highly worrying, and you may no longer feel safe with the security measures you have in place. A good locksmith will assess all possible entry points and can advise on measures that will make it harder for unwanted intruders to gain access in future, which can offer you a lot of peace of mind.
Professional locksmiths can be trusted
Your security is paramount and should never be taken lightly. Hiring a professional locksmith with a good reputation locally will mean you have confidence not only in the quality of their workmanship, but also that they won't leave your property vulnerable. They are not only skilled in what they do, but they also have personal integrity. If you hire an unscrupulous locksmith to access your property, for example, how do you know that they won't try to enter your home unlawfully at a later date? This is why you should always trust professionals.
Keys4U Locksmith is here to provide the best services. Whether you need locksmiths in London because you're locked out or would like advice on updating your security, visit our homepage today for more information on the services we have to offer.