Posted on May 1, 2018 by sylius in Locksmith Tips
Lock Repair and Replacement for Antique Doors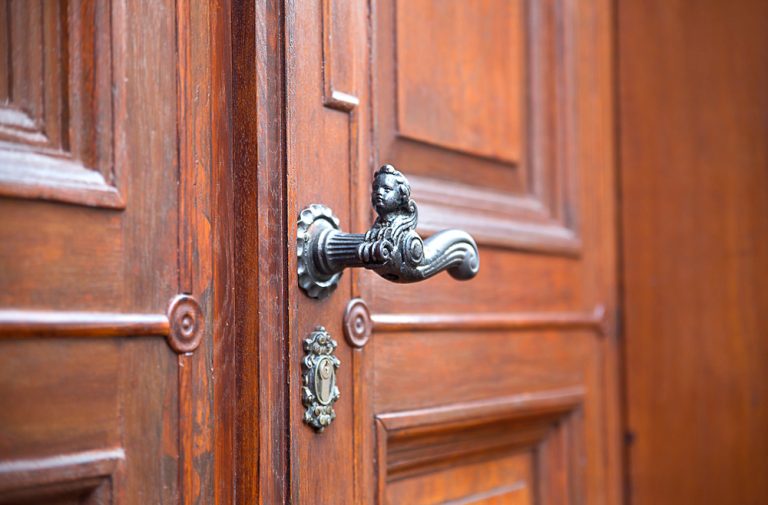 If you have an old home with antique doors, you know they have a lot of character. You might even find yourself in awe of the idea of how many people have walked through that door before you, and what sort of lives they may have lead. Keeping that history in mind, it's worth find the right local locksmith to help you with a lock repair or replacement.
Should You Repair or Replace?
The first question to ask yourself is whether you're looking at a lock replacement, or a lock repair. If your complaint is that your lock is sticking, or the doorknob feels loose, a repair may be the best choice in order to keep your original antique hardware.
However, if your locks are heavily damaged, or your homeowner's insurance has determined they're not secure enough, you may need to replace them entirely. The good news is there are companies that create high-quality replicas of antique locks and doorknobs, so you can still maintain an authentic look while having a more secure entryway.
If you're working with a mortice lock, whether you need a lock repair or a lock replacement, you will want to hire a local locksmith. These locks are more difficult to remove without damaging an antique door, and they are notorious for having parts fly off when they are opened. Leave it up to a professional, who will have the right springs on hand if one goes missing.
What to Expect from Antique Lock Repair
Your local locksmith will remove the lock from your antique door. They will open the lock, clean out any dust or debris, and repair or replace any worn out, damaged, or missing parts. If you get them talking, they may even explain to you how mortice locks work. The world of lock repair is quite interesting and it's always good to take a moment to learn about the devices that are keeping your home secure.
The more local the better, of course. If your home is in London, look for a locksmith London. They may have some additional insight into the history of your house and the style of locks used when it was built.
Like many antique things, these locks were made to last. But any mechanism can feel a little worn after a hundred or so years of use!
A professional locksmith will have the training and experience to either get your worn-out antique lock working like new again, or help you make the decision to replace it with a modern reproduction. It may even be possible to replace a damaged antique lock with another refurbished antique lock salvaged from a construction site – if your locksmith specializes in this kind of work, they may even either already have such a lock or know where you can find one.
When you move in to an older home with antique doors and locks, you become one in a long line of caretakers of that house. Honour that commitment by working with a local locksmith who can make sure that your lock repair or replacement is done right.