Posted on June 12, 2019 10:01 by keys4uSeo
Looking for the Best Smart Lock for Aibnb? Ask a Locksmith in London!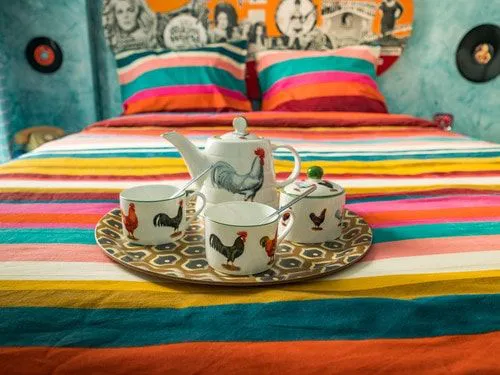 Airbnb has quickly grown to become one of the primary choices for travellers on business or pleasure trips around the world. With access to unique properties like flats that look like they have been featured on the pages of Architectural Digest to tree houses in the middle of the jungle there is truly something that will fit any traveller's needs. It is the perfect solution for both short-term and long-term stays, especially because nowadays people like having their own space and a kitchen to cook in while away. But as an Airbnb host there are many things that need to be considered when preparing a new Airbnb or maintaining a pre-existing one.
A Locksmith in London Can Help with Secure and Easy Access
Safety and security, both for the Airbnb property and the guests themselves, are considerations for every host. Making sure that guests have access to the property upon arrival can take some finesse and finagling on the part of the host. Problems can also arise that make the host late or if guests arrive late to the Airbnb the host may find themselves tied up in other matters which makes it hard to meet them at the property to provide keys. Some Airbnb hosts have tried to remedy this by using a lock box to leave the keys in both when arriving at the property and when checking out but this poses its own problems. Once someone has the code to the lock box they can basically access it at any time. While we'd all like to believe we live in an ideal world, sometimes unideal situations can arise, such as people accessing lock boxes on a continual basis once they have the code. Keys can also be used for lock boxes but as everyone knows, it is very easy to copy keys. An Airbnb host needs to always be cautious when using a key or keypad system that does not change in regards to lock boxes as people can use them to access the property when they are not guests to vandalize or steal things.
Accessibility has been a problem for some Airbnb hosts in terms of actual spaces within the flat building or to other buildings on a property such as the gym or pool. Being able to provide additional amenities besides the flat such as an in-building gym, rooftop garden, or a courtyard only work to increase the value of an Airbnb. But giving access to extra spaces which have their own locks can mean a lot of extra keys, passcodes to provide, or expensive fobs. Having a centralized system that allows hosts to open doors from an app on their phone or provide passcodes that they can change, set a time limit on and even revoke when necessary is a gamechanger when it comes to the world of rental properties. Luckily, two excellent systems have been developed to streamline the accessibility process both for hosts and guests. Read on if you're looking for the best smart lock for Airbnb.
Meet Klevio
This smart locking system was actually developed with the Airbnb host in mind. The team behind Klevio noticed that there was a real need for hosts to be able to provide remote access to their guests on a round the clock basis. The whole idea behind Klevio is that it is a system that is run through an app on your smartphone which allows you to create a specific code for your incoming guests that can be sent to their own smart phones in the form of a digital key. What makes this even more convenient is that 'smart locks' do not need to be installed by a locksmith in London, which usually consists of the entire locking mechanism within a door being replaced. Instead, they can be retrofitted to the pre-existing lock mechanism in most instances and immediate access granted. This ease of installation is one of the things that puts it in the running for the best smart lock for Airbnb.
Not only does Klevio make access easier, it gives you more control over your property as a whole. You can provide multiple digital keys if more than one person is staying at the Airbnb and even lock portions of it off if you do not want anyone accessing them. In addition, Klevio devices can be installed on communal doors like the front entrance to the building, courtyard, or any other doors that guests may need access to. Other residents in a building where a flat is will find this appealing as it means guests are not running around with keys to everything which can be easily copied and could potentially lead to future break-ins if the keys were to fall into the wrong hands.
Meet the ADIOS Smart Door System (SDS)
The ADIOS system is designed to provide the highest level of security from a team of former Rafael scientists in Israel who noticed that there was a real need for a remote locking system which could be accessed from anywhere in the world. Since its inception, ADIOS has gone on to be the number one locking system of choice for the Ministry of Defence and the Prime Minister's office in Israel which tells you just how safe and secure it is both within the cloud system and in physical form.
But what has made this locking system a contender for the title of best smart lock for Airbnb?
Simply put, it allows those who have the ADIOS app on their smartphones complete control over who enters and who leaves a property with fail safes built-in should existing locking mechanisms fail and alerts if somebody should try to enter without a code or proximity device on them. But this SDS is unique because it has more back-ups in place then a regular smart locking system.
If you are concerned about cost and or a potential need to change the locks on your Airbnb's doors don't be. ADIOS can be retrofitted to the existing locking mechanism which means no need for a UPVC lock change unless you want to upgrade your locking mechanisms to the highest safety standard. Once ADIOS is in place it can then be integrated with any other smart home devices such as those on garage doors and windows. It will not disrupt a smart home system but instead make it more accessible. Whenever a door or other item attached to the system is opened or closed it will be recorded in real-time within the app and stored within the ADIOS cloud so that as the host, you know exactly what is happening within your rental. As well, if you do not feel comfortable sending out codes, or guests want proximity devices if they do not have a smartphone then these can be provided in the forms of fobs, bracelets, stickers, and other chip-enabled accessories. The best part is that it can be used on multiple properties around the world, so if you have two Airbnb properties in London, one in France, and one in Thailand you can provide access to guests at any time via the app which can eliminate the need for a middle man to greet guests upon arrival and enable self-check in, which will only increase your Airbnb rating.
Ask a Locksmith
Both the Klevio and the ADIOS systems provide Airbnb hosts with a plethora of smart locking options, it is up to you to decide which system best suits your property and the needs of your guests. A locksmith in London can assess your Airbnb and suggest which smart lock system would suit your existing locking mechanisms and the comfort and convenience of your guests during their stay in terms of access to the flat and other parts of the building. The investment of installing a smart lock system will pay off in the long run as you are able to let in guests at will, turn off access immediately upon check-out, and be alerted to any potential burglary threats as soon as they are attempted.
Safe Installation for Extra Security
Choosing the right smart lock system addresses the needs of both you and your guests in terms of access but for added safety and security it might be worth your while to also consider installing a safe in your Airbnb. If you are inviting guests to access shared portions of your home, documents, jewellery, and technology should be kept in a safe place. To avoid having guests come across some items they shouldn't, having a safe locksmith out to install a home safe in the Airbnb might be a good idea. Alternatively, if guests wish to keep their passports locked up and any spare cash or other valuable items they might actually want to have access to a safe themselves. Most safes allow guests to enter their own passcode which is then reset when they leave. A locksmith can advise on what size safe and brand would best fit into your Airbnb. Then you can have another amenity to add to your list along with self-check in and any other bonuses that will surely make your guests' stays unforgettable. Now all you have to do is decide which smart locking system suits your Airbnb and work on furnishing it in an eclectic manner that will have guests dying to spend a relaxing weekend in London or a month-long city sojourn all while being able to enter the property at the tap of an app or the flash of a key fob.