Posted on January 18, 2016 by sylius in Locksmith Tips
Auto Locksmith London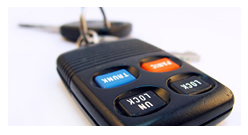 At some point in our lives, we lose our car keys. It happens to the best of us. Frustrating and very stressful, losing our keys is no laughing matter; especially our car keys when we're out and about and trying to go about our daily duties. Perhaps you've locked them inside the car, or you've had your handbag stolen with the keys inside or they've got lost amongst the crowds and the chaos of the city? Whatever the nightmare scenario, car keys can be all too easy to lose and not always so straight forward to replace; unless that is you call our Auto Locksmith.
Trying to get a replacement key in London through your car dealership can be nothing short of a hassle. The biggest hurdle being that they will expect you to bring your car to them in order to generate the replacement key; a problem if you're unable to start the car up in the first place. Add the cost of towing the car into your calculations, lost car keys can become a very expensive affair.
Not only will our mobile Auto Locksmith come to you, but he'll come to you at your convenience and if an emergency (for example you're locked out of your car), we will come to you immediately. If you've lost or broken your key or need a spare, we can generate or duplicate a new one for you on the spot. Problems starting up your car can be resolved by reprogramming the key. We can generate new immobiliser car keys, as well as remote headed immobiliser keys or just a standard key. Give us a call with any queries or to make a booking. We'll save you time and money and get your car keys back to you in no time at all.