Posted on December 7, 2018 by sylius in News
Door Problems? A Locksmith in Enfield Can Help!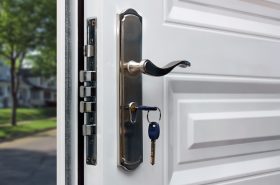 Our doors are literally the first line of defence when it comes to home security, so why would you leave a tricky door unaddressed? We've all experienced that one door that just doesn't close right. It might be that you have to constantly slam it shut or that the locking mechanism does not catch fully. If you do get stuck dealing with a door like this, calling a locksmith in Enfield will be your best bet for that door repair. No matter how big or how small the problem is you do not want it to go unfixed and a locksmith is the best option for all door solutions.
Common Problems with Doors
Most door problems either occur from normal wear and tear, or due to warping of the door frame when an older house starts to "settle" too much. The problems really start to get worse when you do not take the time to address the initial problem, and you just try to work around it by slamming the door or forcing it to latch. Then you might notice the door does not lock properly and you might think to force the lock as well. This is just a snowball effect and what was once one problem will now be multiple problems that could lead to having to replace the entire door itself.
Doors are heavy and they can put a lot of strain on the hinges which is why every so often you should ensure the hinges are screwed in tight. If they begin to loosen, the door will not fit properly in its frame which could lead to more issues such as draughts. This is especially bad during those cold winter nights.
Why Call a Locksmith in Enfield?
You would be surprised at the amount of home repair tasks a locksmith can do, and door replacement or repair is one of them. No matter where you live in and around the London area, there is a locksmith there who can help. From a locksmith in Enfield to a locksmith in Hackney and to anywhere else in the Greater London area, they can help fix your tricky door problem. Slamming the door shut all the time might seem like it fixes the problems because you are at least getting it closed but the problem is still there. You need someone who knows the proper fixes for these types of issues so you don't find yourself with a door that won't close at all, letting in cold weather, stray raccoons, and burglars alike.
Calling in professional help is the best course for home repair. A locksmith can quickly determine whether your door problems stem from loose hinges, a warped door frame, a door that wasn't installed properly in the first place, or a misaligned lock. Once they've found the cause, they can make the repairs and possibly even make other improvements while they're at it, such as installing a smart lock or a nicer door. Call a locksmith in Enfield and don't spend another day slamming your front door behind you.