Posted on March 14, 2019 by sylius in News
Secure Your Van with the Help of a Locksmith in Manchester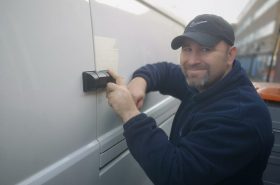 If you have a van for your business, chances are you're carrying a significant part of your livelihood around with you every day. Whether you use your van to carry out deliveries, or to bring tools and equipment to a job site, you need to keep those valuables safe and secure. An automatically locking van lock, aka a slam lock, is a great way to keep things safe, and our locksmith in Manchester would be happy to install one for you.
Why Choose a Slam Lock?
Most sliding van doors are already equipped with a lock. The problem is that they have to be manually locked, and if your hands are full, it can be easy to skip that step. If you're sure you'll be back in "just a moment", you may come back to find that an enterprising thief has ransacked your commercial vehicle!
A slam lock automatically locks the door behind you when it closes. You never have to worry about forgetting to lock your sliding door again, and your business's valuable goods or tools will be safe and secure.
Keep Yourself Safe, Manchester!
From January 2015 to December 2016, Manchester was second only to the city of London for crime in the UK, and the area saw over 57,000 instances of burglary alone. Vehicles are a popular target for thieves, and commercial vehicles may be especially tempting due to the high likelihood of finding things of value to pawn off. In 2017, the BBC reported that across the UK, van crime had risen in the past two years.
If you are a small business operating in the Manchester area, you can call a professional local locksmith in Tameside, Bolton, Clayton, Oldham, or wherever you're based out of, and get our advice on the best lock for your vans.
Protecting Your Van
In addition to calling a locksmith in Manchester for van lock installation, there are a few things you can do in order to help protect your van from burglary.
As with your house keys, you want to keep your commercial van keys out of sight of enterprising crooks. Consider having a key safe at your business where the keys are stored when not in use.
If your employees are allowed to drive the company van home at night, consider having mandatory van security training, which covers keeping the keys safe, and the best places to park the van. If the van cannot be secured in a garage overnight, choosing a well-lit location will make the van a less appealing target for thieves.
Ideally, valuables should not be stored in the van overnight, but if they have to be, talk to our locksmith in Bolton or Manchester about what you're storing, and they can devise the best ways to secure it in the vehicle. An added benefit is this can keep dangerous equipment from flying around and hurting someone in the unfortunate event of a collision!
We're All in This Together
Our locksmith in Manchester has a van full of locksmithing equipment, and thus understands the importance of keeping your commercial van secure! From one local business to another, let's watch each other's backs and keep the thieves away from our livelihood.