Posted on January 8, 2019 by sylius in News
Call Your Local Locksmith for Magnetic Door Lock Installation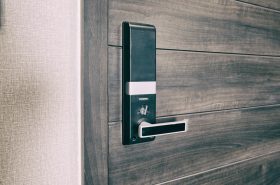 In today's world, there are more security options for homes and businesses than ever before. Many people are doing away with traditional tumbler-based locks to increase the security of their doors. Magnetic door lock installation is one popular option that we regularly receive calls from customers about, especially for entrance doors. There are many benefits to this type of lock change and you will not regret making the switch.


Less Moving Parts
One of the greatest features of magnetic door lock installation is the lack of moving parts associated with traditional locking systems. With a traditional dead bolt lock, there are a lot of small pieces that can get bound up over time or wear out after constant use. In winter time they can stick or freeze creating a hassle that is annoying at best, and devastating at worst if customers can't get into the entrance of your business. Magnetic locks do not have this problem as they do not rely on such intricate mechanics.
This does not mean though that they are easier to install yourself! Since magnetic locks are stronger and provide more security, it is even more important that they are installed by a professional locksmith. Depending on the type of access system you have, there might need to be some electrical wiring done within the door which, if done incorrectly, could render the lock useless. A local locksmith in London or will be your best bet to making sure the lock is installed the right way the first time.


Easier Access, Greater Control
Another great feature of choosing magnetic door lock installation is the freedom to choose how the lock is accessed. With a traditional lock, you have to rely on traditional keys, which requires making sure you always have the right key, and that you always know who has a copy. Magnetic door locks can be configured to allow access using remotes, sensors, codes and keypads, keys; a number of different methods. With all of these options, the power is in your hands to ensure you feel safe and secure. Since magnetic door locks have this capability, you also do not need to worry about unwanted access by someone else. It is easy for someone to copy a key and then you are stuck changing the entire lock. If someone gains access through magnetic door locks, all you have to do is change the code or remote access control. This saves you the time and cost associated with replacing the entire lock itself. The technology works both ways though as well. If you want to give someone temporary access, you can unlock a door remotely or provide them a temporary code without copying a key and trying to remember to get it back. This makes magnetic locks especially appealing for anyone who has either temporary lodgers in their home or temporary employees at their business.
Magnetic door locks are a great way to increase security for access to the entrance of your personal or professional space. Locksmiths are the best way to make sure those locks are installed correctly so you can get back to the peace of mind you deserve.