Posted on September 8, 2014 by sylius in News
Dead locks Security
Posted on September 08, 2014 by keys4u in Locksmith advice, news, case studies and product reviews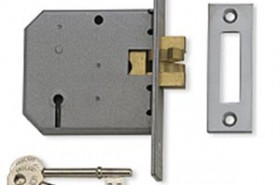 As a locksmith that really cares about safety and security, I'd like to give some general everyday advice with regards to the importance of dead locks security for securing your property.
I have come across so many cases where my clients have closed the door behind them without locking the chub lock behind them. The assumption that your property is secure, just by closing the door behind you is very misleading and can leave you very vulnerable to break ins. For example the top lock (yale type of lock) is very easy to open just using a plastic card. This can be done not only without making any noise but can also be done with little to no destruction to the lock itself.
This is why I advise that it is always worth while engaging the chub type of lock which will leave your property much more secure and give you peace of mind while you carry out your daily business. Chub locks are much more difficult to open for intruders. I strongly recommend to always lock the bottom lock as well as the top one before leaving your property. Also in the event of a break in the chub lock meets the standard of BS3621 for insurance purposes making insurance claims much more successful; although please note that this tip only applies to wooden and not PVC doors.
With the rate of burglaries being at an all time high, there were 92,225 burglaries between 2012-2013 in London alone, it is crucial that you do everything you can to safeguard your home and your loved ones. I hope this advice reaches you well.