Posted on March 29, 2022 10:46 by Tracy
ERA Celebrates 500k Nightlatch Units Sold
ERA, one of the top sellers of security products, is celebrating its 15th anniversary of being hailed as having a top-notch British Standard in security. Particularly, the Nightlatch has sold more than 500,000 units since its launch in 2006. London locksmiths use their products for their quality and security. Any locksmith in London will readily recommend them if a client asks about what locks they can rely on.
This milestone is a testament to the commitment of the company to give locksmiths high quality and reliable products that, in turn, make their customers trust them better. The Nightlatch is available in a 40mm and 60mm backset and is suitable for most door types. The robust design provides high security, and the classic look makes it easy to match any type of door design.
An additional security feature allows it to be deadlocked with an anti-clockwise turn of the key from the inside. The high-security integral cylinder pull keeps it from being drilled. According to the Head of Products at ERA, Kerry Blackford, the company provides tradespeople with solutions that offer protection for homeowners.
Blackford added that they are committed to creating products based on their extensive knowledge and continuous research in security solutions, especially with the new modern standards that customers demand.
The Nightlatch conforms to British Standard 3621:2007 and has a 10-year function, finish, and security guarantee. It is also available in different finishes, including brass, satin, polished chrome and black.
Things to Do if Homeowners Get Locked Out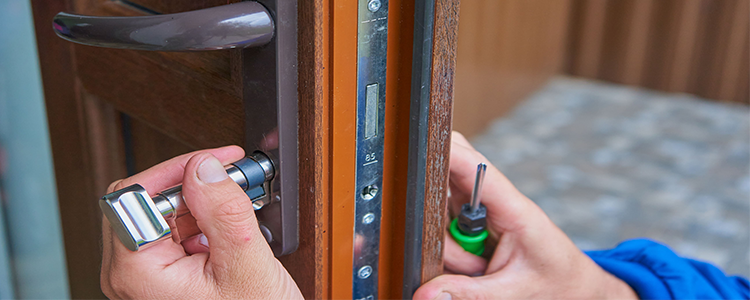 Accidents can happen, and people can get locked out of their homes. Securing a home leads to the protection of the people living in it. However, if there comes a time when one gets locked out, that may come as a problem.
The first thing to do is call another household member and ask if they have a key. This is the simplest and most effective way to open a locked door without breaking anything. If there are people inside, call them and ask them to unlock the door. However, if all the family members are out, contact them to ask if they can come back to unlock the door.
Meanwhile, people who live alone should think of someone they have given a spare key to. Maybe they had people come over to take care of the house while they were away for some time; it might be a good time to ask them if they still have a spare key by any chance. When trying to reach them, it may be good to send them an emergency text or call them directly as they may be busy with chores they are doing for other people.
For those living in rented spaces or apartments, it's easier to get inside the house. The landlord may have a spare key and know where you are. Ring them up and explain the situation. While it's embarrassing to call them, it is much more embarrassing if one can't get in their own apartment.
Check for open windows or a backdoor before going for desperate measures. Sometimes, people may have forgotten to lock a door or a window. While it is not advisable to leave homes without locking everything, in this case, it pays to check if there are any available alternative points of access.
In desperate times, you may need to resort to breaking something, especially if time is of the essence. But even with this solution, one should think about the type of lock their door has, how they are to do it (as they've probably never broken their doors intentionally), and how much damage it will do.
When all the above situations do not apply and the keys are simply left inside the house, the best course of action is to call a locksmith. One should also call them if there is an urgent need to get in the house.
London locksmiths can open the door in a matter of minutes. Most of them also have a 30-minute response time, so homeowners don't have to wait long for their services. What's more, they have the necessary tools and equipment to unlock the door with minimal to no damage to your door.
They also accept emergency cases, even if it's in the middle of the night or the wee hours of the morning. Locksmiths have 24/7 service, which is why they are the best ones to call when you get locked out of the house. They are also easy to reach as their numbers are easily available online.
But if you want to hire professional locksmiths in London, make sure that they are licensed and certified. There have been plenty of news stories about locksmiths charging too much for a job that could have cost less. Some fraudulent locksmiths will also ruin jobs leading to more stress and frustration for the homeowner.
Being proactive is the best solution to prevent getting locked out of the house. Have spare keys in different areas to reach for them if the occasion arises.
One can leave a key at their friend's house or in a junk drawer. They can also leave a house key in their car and leave a car key in the house. This way, homeowners have one or the other if they get locked out of either.
Just make sure that it is secure and not easily identifiable when leaving a key. Consider placing it in a waterproof container as well.
Reliable Locksmiths
Another proactive measure you can take is to have a locksmith in London on your speed dial. This way, if you've exhausted all the possible solutions to enter your locked home, you can easily reach them to ask for their services.
Keys4U Locksmith
is a locksmith service you can trust during this time. We have the essential locksmith service you need. We can also provide you with installing new locks, security systems, and maintenance.
We have a 30-minute response time and will not charge you for call outs. We can serve commercial and residential buildings and have 24/7 service. Browse www.keys4ulocksmith.co.uk for more information about our services!