Posted on August 26, 2015 by sylius in News
How to cut keys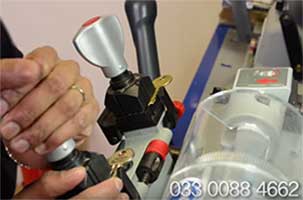 This video shows key cutting on basic Yale, Mortis Deadlock and High Security cut to code keys.
Key cutting is made quick and easy these days with the use of key-cutting machines which are able to make accurate copies by grinding the blank keys into the same shape teeth as the
original key.
Typically there are two vices on each machine, the blank goes into the vice where the cutting blade is located and the original key goes into the first vice with the teeth facing
upwards. Make sure you use protective glasses while using one of these machines.
Once the machine is activated it will duplicate the original key.
The Mortis key cutting machine is very popular and used mostly to cut secondary locks for most front doors.
The Multi-Lock key cutting machine is used for cutting high security keys and can only be cut by code or the card that came with the lock.