Posted on October 10, 2018 by sylius in News
Need a Lock Change? Locksmith is the Way to Go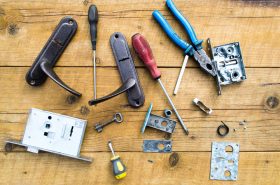 Lock changes can be a very technical task that requires trained hands to complete in order to make sure the job is done correctly. If one piece of the locking mechanism is not installed correctly, the entire lock system could be compromised, effectively rendering you vulnerable to security threats. If you find yourself needing a lock change, locksmith professionals are the way to go and are just a phone call away. Do not hesitate to and wait too long to call either, as each minute is valuable to the safety and security of whatever is behind said lock.
When Should I Change my Locks?
There are many instances when a lock change may be necessary in everyday life. The most obvious would be when you lose your keys. Lost keys not only have the possibility of granting a total stranger access to your belongings, but they also make it incapable for you to access your belongings as well. You could potentially just get new keys made, but a lock change by a locksmith would be the more secure option. Getting new keys made only solves half of the problem and does not address the lost key itself.
Another example of when to change your locks is when you notice they are getting worn. Weather can play a huge role in the breaking down of locks, and with all the small parts fitting together neatly inside, a single fault in the mechanism can make the entire lock useless. In older locks, you might see rust on the face plate or notice a resistance when you attempt to unlock the door. These may be signs of the lock needing replacement sooner rather than later.
Other times when you might need a locksmith for a lock change is when you move to a new home. If there were people there before you, who knows how many copies of the keys they made or even how old the locks are. Likewise, if a roommate moves out, it may be a good time to change the locks.
If you are really worried about your security, you could even change your locks on a rotating basis such as every few years. It would keep yourself from getting complacent and you would be even more prepared.
The Future of Locks
With the greater use of technology sweeping the world by storm, advanced tech can even be incorporated into door locks for added security. Smart door locks provide superb security with easy access. You can even track how many times the door is opened and, if you lock allows it, which code was used each time the door was opened. Smart locks can also be installed by traditional locksmiths as well.
From Birmingham to London, even a locksmith in Milton Keynes, there is someone available that can help you when you need it. Do not wait until it is too late to call a locksmith, but rather try to be proactive. Your security is what is important overall and it is just as important to the locksmith.