Posted on October 31, 2018 by sylius in News
Lock Change Price – What to Expect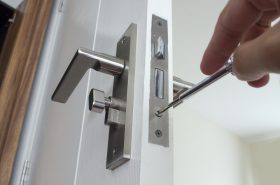 When it's time to call an emergency locksmith, the first thing most people go to look for are the different pricing options available for the services they need. This might be a good practice to find an affordable locksmith, but you will not really know if they are reliable, or even certified to handle even the most basic lock issues. A lock change price should not only be affordable, but should also reflect the experience and expertise of the locksmiths. Below you will find some of the best prices for lock changes, from some of the best locksmiths in the entire country.
Standard Locksmith Services
The first and most important aspect when looking for locksmith services to change a lock or key is a guaranteed thirty-minute response time. When it comes to an emergency, it doesn't matter how cheap the service is if they can't fit you into their schedule for days or weeks. Emergency locksmith services should also have a 24-hour operating window. No matter the day or time, a locksmith is there to assist you with whatever the issue is in order to get you back on your feet. The next important part is the free estimate to come and survey the work that may need to be done. You never want a repairman to come and start working without conferring with you about the total price for all work that is to be done. This keeps everything transparent between the locksmith and customer, and means there's no unpleasant surprises.
Price Breakdown
The individual lock change price really comes down to the type of lock system you have. A basic 5 pin rim cylinder lock can cost as little as 20 pounds to as much as 70 depending on the brand. A high security 7 pin can cost as little 95 pounds and up to 150 also depending on the brand. Euro cylinder locks are priced similarly to rim cylinder with slight variations. Emergency locksmiths can even handle deadlocks from minimum security at 35 pounds all the way up to high security at 120 pounds. The labour costs for all locksmith services are 59 pounds for the first half hour and 79 for each additional full hour during the normal workday. After hours is 79 pounds for both the first half hour and then each additional hour. Most lock repair and change jobs should not take longer than 30 minutes to an hour to complete so the rates are very reasonable to handle the duration of the repair. Simple lock changes are a flat rate of 49 pounds plus the cost of the new lock itself.
Overall the prices for locksmith services are very reasonable for the work that goes into it. With locksmiths all across the country handling both commercial and residential problems, you will have no problem finding a locksmith from Leeds to a locksmith in Orpington. Emergency locksmiths are here for you when you need them and with the most competitive prices around, you will be more than satisfied with the service you receive.