Posted on July 26, 2018 by sylius in Locksmith Tips
The Many Hats of the Local Locksmith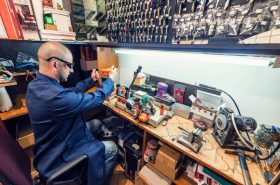 Locksmithing is a fine craft that takes a lot of practice to perfect. Your neighborhood locksmiths are essentially the last resort for any and all instances of broken locks or lost keys to provide access when it's needed most. Trying to solve these problems on your own can result in extra damage done and more money spent.
There many other functions a locksmith can serve though, outside of the usual thought or definition we are accustomed to. Everything revolving around security a locksmith is likely to have the knowledge of. Home, commercial, auto; locksmiths are just a phone call away. Just like with many technical jobs, there is a wide variety of applications of the craft that many people might not think about or realize. A local locksmith can be the jack of all trades that we sometimes need.
Emergency Lockouts at Any Hour
The most widely understood function of a local locksmith is that they are there to assist us when we have a lockout. Whether it is an office or car or flat, a professional locksmith is typically the first person to call for when you can't get inside. They have the tools to essentially "break in" without causing the damage associated with a criminal act. Most of the time they can even save the lock to avoid having to replace it as a result of opening the lock.
Quick response time and professional work make for a trusted locksmith. Emergency lockouts are exactly that, an emergency, so a locksmith that takes more than 30 minutes to reach you for example, is not serving your best interests. Finding a professional who can handle such emergencies promptly is key so that your time is not wasted.
Expert Lock Change and Repair
In the event of the unexpected failure of a lock, locksmiths can also handle the change and repair of locks. The usual response to a lock that isn't working right is to replace it completely, but this can be costly depending on the type of lock and location, not to mention the hassle of making sure that everyone now has the new key. Sometimes a simple fix by a trained locksmith can have the lock working like new. With their expertise and knowledge, they will be able to tell you which is the best course of action to take and the most cost effective one as well.
Backed by insurance, professionally repaired locks are guaranteed to meet the necessary standards in security. As most lock repairs can happen onsite, if it is broken beyond immediate repair, your locksmith will have a temporary fix to keep your home, business, or vehicle safe in the meantime.
Locks for Your Bike and More
Locksmiths are also well-versed in portable locks such as bicycle locks and wheel locks. These locks see a lot of wear and tear as they are constantly tossed around and if they are damaged, it could be a very tricky thing to fix. Even padlocks can see this type of damage and the fix might not be so easy. When they reach their breaking point, a locksmith can provide the assistance needed to keep you moving.
All-Around Security
Thankfully, locksmiths are on our side. Just like a computer hacker that works to create security systems, locksmiths are essentially the same but for tangible spaces instead of cyberspace. Always working against the innovations of the criminal world to be one step ahead with security solutions.
Locksmiths can provide security consultations and all-around checks to make sure your home or office are up-to-date with security provisions. The last thing you want to do is spend a lot of money on a security system just to have that system fail when you need it most. A locksmith will know how to compromise and manipulate a security system and can tell how to better use it or what to add to compliment it to ensure the best security. Anything from window locks to smart locks, even CCTV installation, locksmiths are nonbiased experts who can make sure your security is up to date. They can also provide you with a security sweep when you move into a new home or office. Making sure the locks work might not be the first thing on our mind when we move but a locksmith can come through and check all the locks to make sure they function properly and have not been tampered with.
In addition to security upgrades, locksmiths can provide different points of access control. Keypads, digital locks, even very secure magnetic locks. With so many options available, they will usually give you a suggestion as well so you do not do more than what is necessary to secure yourself and belongings. A home front door probably does not need the added security of a magnetic lock system, but just as well, a simple key lock might not be enough for a business office. Intercom systems are also one of the features that can be provided and installed by locksmiths.
Door Installations and Replacement
A lesser known function of a locksmith is multi-type door installation and security fixtures around doors. Many people are replacing their traditional wooden doors with UPVC doors for a number of reasons, security being one of them. UPVC doors are lighter and provide more durability and last longer than wooden doors over the wear and tear of time and the elements. Traditional wooden doors are more susceptible to security concerns and locksmiths can sit down and discuss the benefits of the different types of doors with you so you can make the most informed decision.
Locksmiths have the ability to install these doors for you, along with many other types of doors, giving you everything you need in the realm of security. On top of the installation of doors, they can install bars or gates for an extra layer of security. A gated courtyard or barred windows on the bottom floors of a building in addition to the main entry locks can provide great peace of mind. Locksmiths can even help secure supplemental structures such as cellars or sheds, giving you recommendations on how to maximize their security.
Everything You Need for Safes
The last major function that locksmiths can perform is anything and everything related to safes. From installation to repair to removal of all different types of safes, locksmiths are there. Safes can be the lifeline, containing important documents or items that define a person and their history. Choosing the best safe depends on what you are going to put in it and locksmiths will talk with you and provide suggestions about the best single or even multiple safes to have. Having a good safe, a secure safe, is vital to the protection of these items and the peace of mind associated with knowing those items are secure. Locksmiths are there to provide that for you. For everything from portable safes to even wall safes that are structurally impenetrable, calling a locksmith is the way to go to make sure it is properly installed to protect your belongings.
More Than Just a Locksmith
With all the abilities of locksmiths there is one thing that goes beyond the installation of security and the help in emergency lockouts – knowledge of the local area. Police are great resources when moving to talk about neighborhoods and which parts of the city are bad or see the most crime, but their focus is all crime not just break-ins or vandalism. Locksmiths deal specifically with the result of these crimes and can have loads of information about where these crimes are committed.
If you are moving or just want to know about the areas of greater London, for example, a locksmith in Stevenage will be able to tell you how often they see tampered locks while a locksmith in Bolton can tell you how often they see break ins in the local area. When they respond to calls, they keep a record of where they are going and the type of work done. This can be compiled to provide an overview of an area and working in conjunction with police, can even be used as a means to consolidate force in areas that need it. As a potential homeowner, this data can be very useful to you in deciding the best neighborhoods to look at when you move.
Overall a local locksmith can provide so many more services outside of who to call when there is an emergency lockout. Their range of abilities encompasses everything having to do with security and their knowledge base is vast. Locating a locksmith close to you is simple and their location is worth knowing in the event there is an issue or just in case you want them to come make sure everything is up to snuff and as it should be. Your security is important and a locksmith is your best partner in this regard.