Posted on December 30, 2015 by sylius in Locksmith Tips
Smart Homes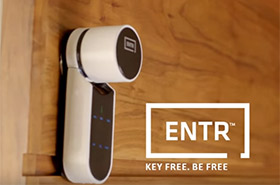 Who would have thought that one day we will be able to control and secure our homes remotely through a computer system or a handheld device such as a mobile? That's exactly what a Smart Home is. Some of you will be familiar with what Smart Homes are all about and for some of you the whole concept will be new to you. Not an entirely new idea; the idea of home automation has been around for a few decades already with automated lighting, heating and cooling already a norm. However, with the sharp increase in popularity in recent years with the Smart phone; Smart Homes have become much more accessible to all of us.
So what exactly can we do with a Smart Home kit?
The Smart Home is a bit of an all rounder and enables you to automate away your everyday chores; saving you time and money whilst increasing security to your home. The Smart app enables us to remotely turn our alarm system on or off. No need to leave the light on while you're on holiday; now you can switch your lights on and off no matter where you are, an absolute gem for energy saving. You can also switch your heating on before arriving home, enabling you to come home to an already lovely warm, toasty house.
If you're one of those that worry about whether you've locked up properly, this is the perfect solution for you. You can now control the locks through your Smart Home system, also enabling guest, visitors, family and maybe the family cleaner to enter and exit your home without you being there. No more leaving keys under the door mat and giving out spares to your neighbours. You'll never have to fumble around for your keys again, since your door will automatically lock and unlock whenever you come or go from the area that you designate as home on your system. It's extremely straight forward to set up, since most smart phones have GPS sensing built in, all you will need is a smart lock installed and using the SmartThings app, you'll need to set your home location.
With so much to offer and quite a few home automation companies to choose from, here are a few companies definitely worth checking out:
August Smart Lock– One of the leading companies in Smart Locks. Their system works with the existing deadbolt on your door and is easy to install.
Notion – Notion will enable you to monitor just about everything from your windows to your smoke alarm as well alerting you if there is a leak, one of your doors is open or if a room is too hot or too cold.
Canary – An all-in-one security system that allows you to remotely monitor your home and take action.
Homeseer – Just what you need to control everything in your home from your lights, locks, thermostats, audio, video equipment and more. You can even control and programme your home by voice and detect if a vehicle enters or leaves your driveway!
Smartthings – Everything you need to stay connected to your home and family as well as keep your home secure and more.