Posted on March 21, 2017 by sylius in News
Smart Technology: The New Approach To Home Security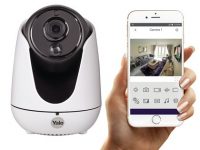 Your home will have never felt safer, with the changing face of security and the introduction of smart technology into the household. Not only can you now control your locks, burglar alarms and monitor your CCTV system all through the convenience of an app via your smartphone, but you can also have control no matter where you are. If you're on holiday you can not only keep an eye on what's going on at home while you're not there, but you can switch your lights on and open your blinds to give would be intruders the impression that someone is home. You can even control the heating in your home if you're concerned about frozen pipes.
Affordable Smart Home Security Solutions
Home security has never been easier and more affordable. Easy to set up with many do-it-yourself kits widely available on the market. This is cutting out the need for professional installation.
If you have no time to monitor and keep an eye on what's going on at home, there's also the option with some products of paying a monthly subscription fee. This gives you the option to have your home monitored for you by professionals 24/7. In the event of an emergency, an alarm will be triggered and the local police or fire brigade will be alerted.
Your smart home system will be connected to your Wi-Fi network at home. This enables you to have full control and keep track of what's going on via an app on your smartphone. Depending on your needs, you can pick and choose what coverage you have. Enabling you to have control over your door locks, CCTV system, burglar alarm, lights, smoke/CO detectors, water detectors.
So are smart home security systems like smart locks really worth it? Why not just invest in traditional locks, alarms or CCTV systems?
The beauty of smart home security is that you can have full control of your household security remotely, anytime, anyplace, anywhere. If there is a security alert, you'll know about it instantly through your smartphone. Furthermore, there is no need to commit financially to subscription fees and rely on a professional home monitoring system or your neighbour to respond to a security alert for you. A big advantage of smart cameras is that they enable you to see what's going on in your home real time. Whereas with conventional cameras you'll need to be at home with your camera set up to your PC in order to view the footage. This is useful for investigating an incident that has already happened. However, not so useful if you want to catch offenders in the act.
Even though Smart Technology is still a relatively new concept and still at the early stages of development, it already offers a fresh new approach to the way we secure our homes. In short, if you're looking for a reliable security system that gives you peace of mind and full control over what's happening at home instantaneously, even when you're not there, a Smart Home security system could be exactly what you're looking for to make your home a safe place.