Your Local Emergency Kensington Locksmiths
24 hour emergency Kensington locksmith. Providing free estimates and advice for all locksmith services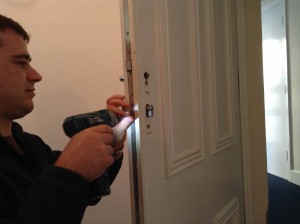 KEYS4U offer professional local 24-hour services for emergency lockouts, lock repair and replace. Your security is our top priority and we strive to offer best value local 24 hour W8 locksmiths . Our team is exclusively made up of locksmith experts and we offer quality services at the most reasonable prices. We also offer free estimates and advice, and the Kensington locksmith taking your call will give you a detailed and accurate quote at all times.
Our promise is that a fully qualified locksmith will be there with you in less than 30 minutes from taking your call. He will help you gain entry to your house or office promptly and causing the least damage. When possible, the KEYS4U technician will try and recover your lock as well, while drilling would be the last solution.
KEYS4U values technology and we use the latest products and techniques on the market. We are well-equipped with state of the art tools and receives periodic training in up to date operating methods. That way, you can always be at peace that we will keep you well-protected.


Proficient 6 months Guaranteed Unlock, Lock Installation, Lock Fitting, Lock Repair and Replacing Services
We offer great value locksmith services, from emergency unlock to lock installation and fitting, lock repair and replace and many more. We are experts in dealing with any type of security and replacing systems at unbeatable prices. Highly trained and carefully recruited, your skilled locksmiths in Kensington will always do his best to accommodate your lock work needs. For a more detailed list and description of what we offer, please check our Services range here.
KEYS4U acts on an integrity and trust policy and our work is fully guaranteed and insured for 6 months. Instead of short term benefits, we always aim at providing long term benefits to our respected clients. We also strive to develop and maintain good professional relationships on all occasions.


Get a Fully Licensed Locksmith
KEYS4U operate in the security industry and we are aware that our credentials are very important to gain the trust of our clients. Thus, any locksmith in Central London is fully licensed and trained periodically and all our locks are supplied and fitted to BS-3621 standards for your convenience.
We have a dedicated department for carefully screening and selecting our staff. They are also highly motivated to offer the best service to our clients and always adopt a customer focused approach. Whenever you need a trustworthy and experienced locksmith in Kensington, do not hesitate to call us on 020 3384 5891, we are ready to help anytime.


More About the Area
Kensington district belongs to both central and west London and it is part of the Royal borough of Kensington and Chelsea. This is a very popular area of the capital and while here you can walk, shop and dine on the Kensington High Street. Queen's Kensington Gardens are the perfect place to relax. South Kensington area is famous for its many museums and art music establishments, such as the Natural History Museum, Science Museum, Victoria and Albert Museum, the Royal College of Art, the Royal College of Music and so on.
The area is also a dense office centre, accommodating the headquarters of Daily Mail, Evening Standard and Metro publications. It is also a highly populated area. Hence the constant need for services, including locksmith services in Kensington.


We offer range of locksmith services:
Security locks installations and replacement
Ssecurity solutions for any kind of premises using the latest cutting edge technology
Home/Building lockout
Re-master Lock
Transponder Keys Made
CCTV and Video Surveillance systems
Biometric Systems
Keyless entry systems and access control
September 27, 2020 , 16:46:41
Patrick was very quick, very efficient and had us in in no time after we had been trying for two hours. Many thanks!
From the initial call which was taken within seconds to speaking with the office you were greeted with very helpful knowledgable lady my emergency of locked out of a property was dealt with in minutes! Yes 35 minutes enginner arrived and locks and keys were replaced no stress and very reasonable on price. Would highly recommend
December 06, 2019 , 22:23:38