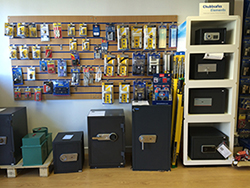 Safes are the perfect solution, if you have valuables in your home that you want to give that extra protection. A good quality safe should ideally be supplied and fitted by a professional locksmith to ensure maximum protection. A few things to consider before purchasing a safe is whether it will need to be approved by your insurance company and if yes, will it meet their criteria? You will also need to consider whether the safe needs to be fireproof; as well as the size of the safe. To get maximum security out of your safe, it is always best to purchase and have it fitted by a qualified locksmith. Our Keys 4 U Locksmiths in Liverpool offer a safe installation service including floor safe installation and wall safe installation.
Our Liverpool locksmith have a wide range of security safes including domestic safes and commercial safes at cheap affordable prices including the following:


Burton Torino Gold
This popular safe comes in 4 sizes and can be key operated or operated via a digital electronic lock. This anti burglary safe has been tested against forced entry and is AIS (Association of Insurance Surveyors) approved, as well as sold secure gold tested and EN14450 S2 tested. This safe offers both quality and value.


Sentry Safe
For a safe that's fire and water resistant, the Sentry Safe is an excellent choice and offers value for money.


Churchill Domestic D2L
For many it makes sense for their safe to not only offer maximum security but to also remain unseen. This under floor design is a best seller in the UK and for good reason. Installation is easy for those into their DIY and prices affordable.


Chubbsafes AIR
If you're looking for a low cost, cheap safe that's still adequate for items that are lower in value and in a building that's relatively secure from break ins, these are a great option.
If your existing safe is giving you problems or you're having problems unlocking it or have lost the keys, then our safe engineers in Liverpool offer an emergency safe opening service as well as safe key cutting. Our locksmiths have the special training and knowledge to unlock and open any safe. If you need a safe key cut, given the high level of security a safe require because it's always recommended to have one cut by a professional locksmith.