Emergency Osmondthorpe Locksmith, LS9 - Local professional locksmiths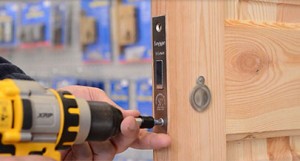 Are you based in Osmondthorpe and seeking a locksmith service you can turn to at any time? Osmondthorpe Locksmith offers a 24 hour emergency service, 7 days a week, every day of the year. You can feel free to call us at any time and we will be ready to come and help you. Furthermore, we offer an emergency response time of just 30 minutes, so you won't have to spend your day waiting to get your lock problem fixed.
We do everything we can to deliver a quality service at competitive locksmith prices. No matter what it is you need us for, you can count on us to be there and get the job done on the spot, with no fuss and at a price that's right. Our services include lock changes, upgrades, fresh installation, repairs and lock-outs and much more. For less urgent jobs, appointments can be scheduled at a time that suits you.


Auto, Residential and Commercial locksmith for all your locksmith needs
All of our vans are kept fully equipped ready to tackle any job on the spot and we have a full range of locks to choose from no matter what level of security you are seeking and what your budget is. If you need a lock that's insurance approved, be sure to check out our range of locks that conform to current British Standards and have the British kite-mark. If you're a business owner looking for a more durable, hardwearing lock, we have a selection of Grade 1 commercial locks. If you're not sure which lock is the most suitable for you, one of our security experts can give expert advice and recommendations based on your security requirements and budget.


Enhanced security at competitive locksmith prices - CCTV, alarms and lock upgrades.
When it comes to security, we have it all. We supply and install burglar alarms, CCTV systems, smart locks, London and Birmingham bars, letter box protectors and peep holes. For business owners, we also offer panic bars, access control and master key suites. If you need some help choosing the best products to suit your needs or you'd like more information about any of our services, feel free to give us a call and we'll be happy to help whichever way we can.
Osmondthorpe Locksmith serves but are not limited to the following areas: Osmondthorpe - LS9, Mabgate - LS9, Cross Green -LS9, Roundhay - LS8, Oakwood - LS8, Harehills - LS8, Gledhow - LS8, Gipton - LS8, Fearnville - LS8, Sheepscar - LS7, Scott Hall - LS7, Potternewton - LS7, Miles Hill - LS7, Meanwood - LS6, Headingley - LS6, Beckett Park - SL6, Hawksworth - SL5, Kirkstall - LS3, Burley - LS3, WoodHouse - LS2, Otley - LS21, Arthington - LS21, Pool - LS21, Fewston - LS21, Blubberhouses - LS21, Leeds City Centre - LS1, Hyde Park - LS6.
*This address is not a store location; it reflects the radius that we cover from this point