Emergency Scarcroft Locksmith, LS14 - Local professional locksmiths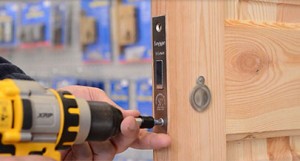 Are you looking for a dependable locksmith service in Seacroft, LS14? We at Scarcroft Locksmith offer a locksmith service that ticks all the boxes. Fast, friendly, flexible and affordable; our goal is to offer the best service in the area at prices that are hard to beat. We are open for business 24 hours a day, 7 days a week, 365 days of the year. You can reach out to us at any hour of the day and any day of the week and expect to wait no longer than half an hour. Our response time is just 30 minutes and our technicians are on standby at all hours in order to meet all your emergency needs.


Auto, Residential and Commercial locksmith for all your locksmith needs
Our team of locksmiths are made up of some of the finest in the industry. All of our technicians have the skill and expertise to see through any challenge that comes their way. No matter how big or small the job is, you can count on us to get it done.
Whether it's your locks that need changing, or maybe you are seeking to get them upgraded or repaired. Perhaps you've lost your keys and are locked out as a consequence. Whatever, the case may be; that's what we're here for. We are always just a phone call away and ready to take on the next challenge.
Our vans are kept fully equipped and stocked with a large selection of locks to choose from. We stock all lock types to match all needs and budgets, including those that hold the British kitemark and meet British Standards. These locks not only offer peace of mind and maximum security to your property, but they are also recognised by most of the major insurance companies. For business owners we also offer grade 1 commercial locks, master key suites, access control and panic bars.


Enhanced security at competitive locksmith prices - CCTV, alarms and lock upgrades.
As well as locks we offer a whole host of security products for either home or business including: burglar alarms, CCTV systems, smart locks, London and Birmingham bars, letter box protectors and peep holes.
If you have any questions and would like more information about any of our products or services we provide, please don't hesitate to contact us. Our dispatchers are always ready to help and can refer you to one of our security experts for more specialised advice if needed. Our phone lines are open 24 hours a day, 7 days a week.
Scarcroft Locksmith serves but are not limited to the following areas: Scarcroft - LS14, Seacroft - LS14, Killingbeck - LS14, Swarcliffe - LS14, Thorner - LS14, Whinmoore - LS14, winnow - LS13, Bramley - LS13, Gamble Hill - LS13, Moorside - LS13, Rodley - LS13, Armley - LS12, Beeston - BS11, Stourton - LS10, Middleton - LS10, Hunslet - LS10, Leeds City Centre - LS10, Beeston Hill - BS11, Cottingley - BS11, Holbeck - BS11, Farnley - LS12, New Farnley - LS12, Wortley - LS12.
*This address is not a store location; it reflects the radius that we cover from this point